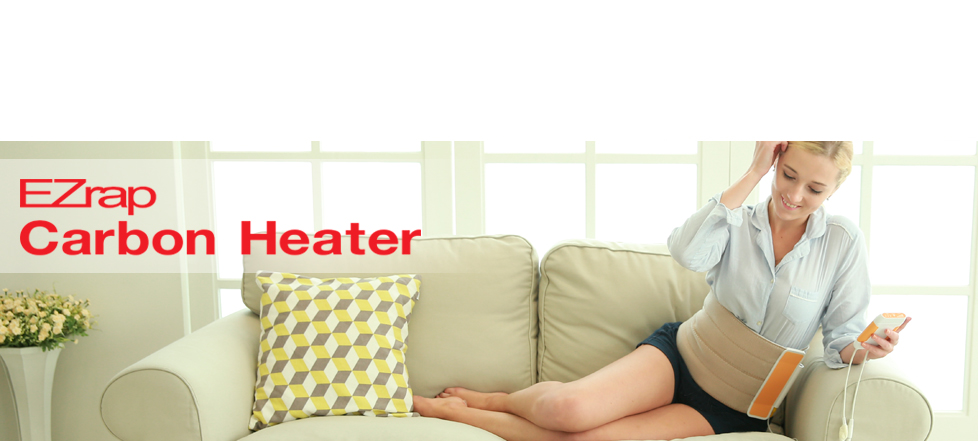 Products

Air Compression Line

Elastic Compression Line

Compression Stocking Line

Heating Product Line




EZrap Carbon Heater is, produced by a
specialty medical device manufacturer Doctor Supply,
are newly-developed, far infrared radiation-emitting,
thermal energy belts that are made of 100% carbon
nano-tube yarns, high-stretch spandex fabric, and
other natural materials.

Product Features

• Increase in deep body temperature through stimulation
of the dermal layer using far infrared radiation.
• Generation of very comfortable and natural
thermal energy
• 5-step heat regulation
• Powerful 5-step safety system
• 3-step timer (1Hr, 2Hr, 15Hr Continuous)
• Built-in auto overheating control (for prevention
of low-temperature burns)
• Reduced static and no Electromagnetic waves
• Shared use of the same controller between both
belt and mat (excellent compatibility)


This product does not contain electric heating wire, but
it is 100% made of carbon yarns; you can store it
conveniently in any place.
This product permits folding or rolling to your desired shape.
This product can be stored conveniently in the shape and in the
place you want when it is unused for a long period of time.

Detachable Controller

Our heating mats allow separation of temperature controller
and power cable from their main body, providing easy and convenient management.
In addition, you can replace a temperature controller for normal operation, even in the
event power is shut down due to overheating.

Thermotherapy


Efficacy of hyperthermia therapy

• Effective substitute to reduce chronic pain
(lumbago, menstrual pain, neuralgia. etc)
• Muscular pain alleviation against chronic muscular disease
• Damaged muscle recovery through improvement of
blood circulation
• Muscular function recovery as a preparatory
stage prior to exercise


Verified hyperthermia effect of an anti-cancer therapy

• Promoting blood circulation by expanding the capillaries
• Generation of anti-bacterial cell
• Strengthening the body immune activity
• Helping the oxygen concentration (pH) to increases through
vasodilation and making in-vivo tumor inhibited through
smooth blood circulation.